The biggest boy band of the world.
The new K-pop superstars.
Chosen as TIME's "next generation leaders".
Yes, it's about the music boy band of South Korea BTS (No, they aren't Chinese). The band consists of seven members RM, Jin, Suga, J-hope, Jimin, V and Jungkook. From winning billboard's Top Social Artist right back in 2017 to winning the top group awards in AMA's and billboard, this group attracted a whole lot of fans all around the world. Their fans are called A.R.M.Y (Adorable Representative MC for Youth). These bulletproof boys sold out stadiums like LA's Rose Bowl, London's Wembley through their Love yourself: Speak yourself tour in 2019.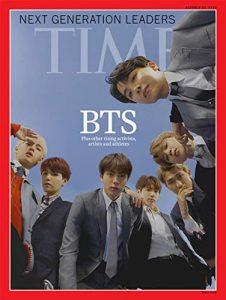 BTS's story is that of the underdog. To new fans, and the general public, it might seem like BTS achieved instant success, but it took years of blood, sweat, tears, and hard work for them to become superstars. What's it like being a part of an A.R.M.Y for the past one year? We kinda relate to them. Their songs' lyrics speak all about them.
"I thought this was the ocean but it's a desert
A medium-sized, ordinary idol was my second name.
Countless people get cut from broadcast.
But someone's empty spot is our dream.
They say some of these kids can't make it cuz their agency is too small.
I know, I know, I know too.
Times when the seven of us had to sleep in one room.
With foolish hope that tomorrow will be different before we fell asleep.
We saw the mirage in the desert but we couldn't grasp it.
Praying that we'll remain in this desert till the end.
Praying that this isn't truly our reality"
                                                                –BTS 'Sea'
South Korea's K-Pop industry is literally a factory where the singers (idols) are hired by agencies. After undergoing vigorous training in vocals, rap and dance they are given a chance to debut. One of the rappers of the group, Suga, tells about the hardships they have gone through since their debut i.e, 2013.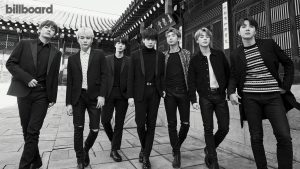 Through "Love yourself" trilogy studio albums, they talked about the importance of loving ourselves.
"Stop hating yourself for everything you aren't and start loving yourself for everything you already are."
As a child we always wondered about the night sky. The stars, constellations, galaxies everything amazed us. We had the freedom to dream. We dreamt of being an astronaut (like me), scientist and a super hero too. RM, leader of BTS, addressed this at the UN. Love Myself is a two-year, anti-violence campaign launched on November 1, 2017 by BTS in partnership with the Korean and Japanese Committee for UNICEF. They campaigned against violence against children and teens around the world, in the hope of making the world a better place through music.
"My heart stopped…I was maybe nine or ten", he began. "Looking back, that's when I began to worry about what other people thought of me and started seeing myself through their eyes. I stopped looking up at the stars at night. I stopped daydreaming. I tried to jam myself into moulds that other people made. Soon, I began to shut out my own voice and started to listen to the voices of others.  No one called out my name, and neither did I. My heart stopped and my eyes closed shut. So, like this, I, we, all lost our names. We became like ghosts."
Music is their therapy. Their hideout. They have always talked openly about the importance of mental health. We work hard. Sometimes we go through several mental breakdowns to achieve our goals. We panic at the pace of our contemporary. We easily let down ourselves. We tend to give up. While listening to their music, we often feel comforted as we realize that we are not alone.
Here are some of the lines from their songs and messages.
"Maybe I made a mistake yesterday, but yesterday's me is still me. I am who I am today, with all my faults. Tomorrow I might be a tiny bit wiser, and that's me, too. These faults and mistakes are what I am, making up the brightest stars in the constellation of my life."
-RM
"It's alright to stop.
There's no need to run without even knowing the reason.
It's alright to not have a dream.
If you have moments where you feel happiness for a while.
It's alright to stop.
Now we don't run without knowing the destination.
It's alright to not have a dream.
All the breaths you breathe are already in paradise. "
– BTS 'Paradise'
You think this is the end? Well, no. Their songs include wide variety of genres like Hip hop, R&B, ballad, pop, etc. ARMYs enjoy the most when it comes to their concerts. Their powerful dance breaks, high-note vocals, and peremptory rap take the fans on an emotional roller coaster.
How they start the concert vs how they end the concert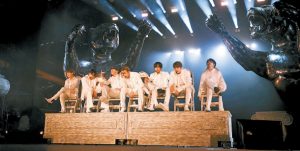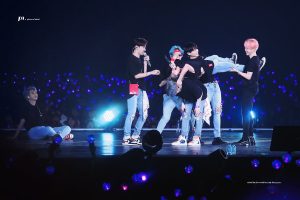 All the fans quite enjoy their bromance on and off stage. There are a bunch of crackheads. RM is fond of crabs (not for eating), Jin cracks dad jokes, Suga wants to be reincarnated as a rock in next life (too lazy to breathe), J-hope has a natural talent to loose any game (literally any game), Jimin can't see things when he smiles or laughs (due to his mono eyelids), V has a unique way of looking at things (sometimes considered as an alien too), while the youngest wants to rather die than live without passion.
I hope you give a listen to their songs. Let's make this world a little nicer and a little happier.
References:
https://genius.com/artists/Genius-translations
https://www.unicef.org/press-releases/we-have-learned-love-ourselves-so-now-i-urge-you-speak-yourself
https://www.koreaboo.com
Images:
https://www.billboard.com/music/bts
https://time.com/collection/next-generation-leaders/5414052/bts-next-generation-leaders/
@piecesofmind_jm(twitter)
Big Hit Entertainment