Is Modi's Government all about talking?
Is India's Economy on the verge of a recession?
Why is BJP reluctant in properly addressing this slowdown?
Is this why entrepreneurship is still a big risk in India?
Let's Look into it….
With an aim to acquire USD five trillion economy status, India has to consistently achieve a minimum of 9%+ growth rate for next five years. On the other hand, economic indicators reflect that the GDP growth of India has gone down to almost five percent in the first half of financial year 2019-20. Many sectors that contribute to the Indian Economy's growth path, like automobile, real estate, FMCG, manufacturing, agriculture are lagging behind in achieving desired growth rate and jobs in these sectors are not only going down but are also trimmed.
To become a USD five trillion economy in 2025, India must achieve USD 3.3 trillion economy status by 2021; USD 3.6 trillion economy status by 2022; USD 4.1 trillion economy status by 2023; USD 4.5 trillion status by 2024 and USD 5 trillion economy status in 2025. However, the current trends and prospects do not favour this dream.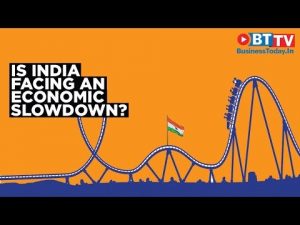 RECENT SLOW DOWN OF INDIAN ECONOMY: IMPACT IS PROMINENT
The GDP growth of Indian Economy has touched the six-year low in the first financial quarter of April-June 2020. It touched 5.8% growth in January-March, although in nominal terms India's GDP grew by 7.99% which is also lowest since December 2002. Key sectors bearing the brunt of Indian Economy slow down are agriculture, Automobile, real estate, FMCG among others.
The official data released by the National Statistics Office (NSO) confirm the same. Weaker consumer demand and slowing private investments are the two key factors behind the Indian Economy Slow Down.
Eight core sectors have registered negative growth of just 2.1% in July, compared to 7.3% in the corresponding month last year. According to the Centre for Monitoring Indian Economy (CMIE), the overall unemployment in India has now touched 8.2%, with a high urban figure of 9.4%.
FPIs have pulled out a net amount of Rs 5,920 crore even after the government announced a rollback of enhanced surcharge on FPIs. All the sectors need huge investments and remedial measures to increase the demand to improve and take India out of the state of economic slowdown.
Indian Economy, no doubt is passing through a sluggish economic growth since 2016 post demonetization as compared to earlier years, although efforts are being made to improve the Indian Economy's growth to achieve the rate which may not be considered as very slow.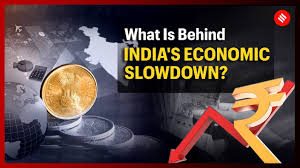 INDIAN ECONOMY SLOW DOWN: THE FACTS AND BACKGROUND
India's Economic growth has slowed for 5 consecutive quarters beginning from late 2015-16 onwards. Now growth is slower than it was in the quarter in which The Modi Government assumed office. It could be serious blow for a government that had promised to turn around the economy through decisive governance.
All four contributors to economic growth – domestic consumption, foreign consumption or exports, private investment and government spending – are hit by the slowdown. In the first quarter of this fiscal year, domestic consumption fell to 6.66% as against 8.41% in the same period last fiscal; exports as a share of the Gross Domestic Product was down to 19% from 20%; and fixed capital formation decreased from about 31% of the GDP to 29.8%, signalling a slowdown in the industry as well.
Reforms: Are They Leading To Slow Down?
Structural reforms are being taken by almost all the governments or they have been claiming to be doing for more or less a quarter of a century now. Since 2014, in particular, "the ease of doing business" has received great attention from this government. But, the economy today is still less regulated than it was in 1991. Labour market reforms have not been taken up yet in Parliament. Share of manufacturing may rise if the labour market is liberalised.
Another fact is how the economy came close to achieving 10% growth in the late 1980s and during 2003-08 when the policy regime was no more liberal than it is now. It is also difficult to relate slowing domestic growth to sluggish world trade as data show 2016-17 to be a year of a major turnaround in exports. On the other hand, capital formation as a share of output has declined almost steadily for six years now. In 2014-15 it rose slightly.
Corporate Sector & Industry Criticize The Government
A section of the industry and many economists have criticised the government for not being prudent enough to read the distress signs and for treating the slowdown as temporary and transient.
The economy grew by a mere 5.7% in the quarter ended June 2017. In the first quarter of this financial year, growth fell to 5.7% as against 7.9% in the same period last fiscal year.
HOW CAN INDIA COME OUT OF SLOW DOWN?
Leading economists and market researchers suggest following remedies to bring the Indian Economy on high growth track
More Government Expenditure
Let Indian Rupee be weaker
Lower Lending rates
Certainty in Business required
No need for excuses: Acknowledge and spend in rural areas
Despite this worse status
Our Financial Minister Mrs. Sitharaman still believes that India will not march into recession and backs the handling of the slowing economy by the Narendra Modi government.
Mrs Sitharaman said and i quote,
 "Looking at the economy with discerning view, you see that the growth may have come down, but it is not a recession yet or it won't be recession ever."
 Economists say a huge setback is waiting for Modi's Government, if proper remedies aren't implemented as soon as possible given the worst numbers in the first half of FY20.
Studies have shown that the failure of implementation of any reforms taken by the government in the past 5 years have also had a great impact on the economy.
Marching into the Second half of the FY20 let's hope GDP recovers and get out from the risk of recession and its high time that government should step aside from just talking and do some serious business and take some vital steps in future years to come.
Reference:
This article is based on "The slow climb to the trillion economy peak" which appeared in The Hindu on 17/09/2019.